Are You Looking for A Way To Sell More?
Successful salespeople use psychological tools of manipulation to their advantage! They get what they want and rise to the top…
What If You Discovered A Better Way To Succeed?
What if you could learn these psychological tools of manipulation and use them to substantially increase your ability to connect and communicate effectively with anyone, anywhere, anytime, so that you can increase your bottom line?

Systematically Increase Your Psychological Sales Success
Knowing the psychological tools of manipulation will give you the ability to:
✓ 

Capture attention and make people ask for more


✓ 

Create lasting meaningful connections


✓ 

Set yourself apart from the competition so customers chase you


✓ 

Make yourself a socially valuable leader


✓ 

Earn more money


✓ 

Gain Peace of Mind


✓ 

Become A Sales Champion


✓ 

Close More Sales


✓ 

Have More Fun And Genuinely Be More Successful
Your Mind Is Your Greatest Ally… Or Your Worst Enemy
If you run your own business or you're a sales professional, whatever level of sales success you currently enjoy, there are always preconceived thoughts, feelings, biases, and psychological barriers to break through.
If you don't believe it: Think about Manipulation. Does it scare or excite you? Depending on how you feel, your mind accepts manipulation as positive or creates negative mental barriers based on past experiences. "What You Think" can be your greatest asset or your worst enemy!
Break Through Mental Barriers
Everyone that sells has mental barriers!
Beginners experience mental barriers like Self Doubt, Low Self Esteem, and Fear of Rejection.
Industry Veterans experience mental barriers like Long Term Performance Anxiety and are looking for the Life Balance and Competitive Edge that gives them an advantage and separates them from the competition!
What Is Your Ignorance Costing You?
A client of ours, Peter, is a realtor. He is 6'6″ with a Russian accent. When telephone prospecting clients to list their houses, his accent was an asset that differentiated him from the competition. However, in person, people shied away from him and he had difficulty convincing prospects to list.
Using some of the psychological tools we taught him, Peter discovered potential clients felt very uncomfortable around him because of his dominant posture, towering height, and accent. That discomfort was manipulating and chasing away prospects.
With 2 simple changes in Peter's stance and physical approach, he was able to eliminate the psychological manipulation affecting his prospects to help them feel comfortable and list with him.
What are you unaware of in your approach, communication, and sales process that manipulates your prospects and clients into your competition's arms?
Get These Psychological Tools Now
What simple changes can you make now to help prospects and clients feel comfortable and select you?
Join Colin Christopher and discover the system you must know for Increasing Psychological Sales Success.
With this system you will be able to advance any business relationship and close more sales!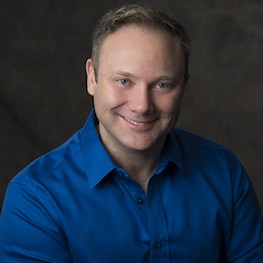 Why Join Colin For This Sales Training?
Colin Christopher is an expert in Subconscious Communication. As a clinical hypnotherapist and author of the best selling book Success Through Manipulation: Subconscious Reactions That Will Make or Break You, Colin has developed a unique and easy 7-Step Thought Manipulation Formula for increasing psychological sales success.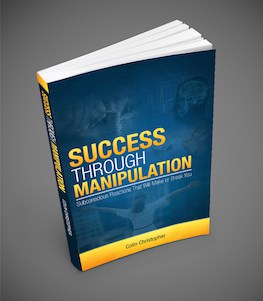 Use These Mental Tools And Sell More
Success Through Manipulation is a unique process based on Colin's experiences helping and hypnotizing thousands of people and using specific mental tools to manipulate their thinking and overcome their mental barriers. Success Through Manipulation has been featured internationally in and on hundreds of print, online, radio and TV interviews and now you can learn to use these mental tools yourself to increase sales!

Easy To Learn 7-Step Formula For Increasing Sales
Colin's simple 7-Step Formula will allow you to identify, and more importantly, break through your psychological barriers by giving you a system to better understand yourself, your clients, and the whole sales process.
With this system you can genuinely connect on a meaningful level. Discover your buyer's true motivators, gain real trust, and increase your sales.
This Training Is For You If…
✓ 

You Are Serious About Your Business Success


✓ 

You Are Looking To Create A Competitive Advantage


✓ 

You Want To Increase Your Bottom Line And Make More Money


✓ 

You Want To Have Fun And Be More Successful In Sales And In Life
This Training Is Not For You If…
✓ 

You're Sheldon From The Big Bang Theory And You Think You Know It All


✓ 

Your Retirement Plan Is Winning The Lottery


✓ 

You Don't Want To Sell More


✓ 

You're Happy With Your Current Income


✓ 

You Prefer To Do Things The Hard Way And Don't Like Experts Helping You Succeed
What People Are Saying:
"The Manipulate the Sale Training was an eye opening experience. I've read psychology and self improvement books before, but this training really made me apply a lot of concepts to directly influence my psyche and consequently my sales.
The exercises we did require a bit of a phase shift and seem strange at first but they work to influence whatever it is you set out to improve in your life – not just sales!
I would recommend this program for those serious about improving their sales and having a mindset shift about how they approach the sales situations. This training gives techniques on how to have your potential clients naturally ask about your product or service instead of trying to pitch it to them like most sales people – and the best part, it feels natural!"
Denis S. – Edmonton, Alberta
"I was able to identify and pinpoint the differences between someone who just 'thinks positively' and someone who truly has mastered their thoughts and has them under control and therefore can produce results. I just wanted you to know that the way that you explained everything, and the organization of how it was put together is immaculate."
Victoria L. – New South Wales, Australia
"I just want to say that after taking the Colin Christopher courses, they really made a big difference in my business. One particular area that I have applied to my business and myself is Training the Gatekeeper(the mind). I used to be so scared to make calls, I would assume the result of the call before I even made the call.
Applying the training that Colin had given us, I was able to free myself of pre-conceived notions by training my mind to believe positive things and expect good results. Also, his courses reminded me not to take anything personal in sales calls. If I got an objection, I used to just cave in and proceed to end the call, but after the sessions, and also the one on one session, I am now able to further ask more probing questions without being too pushy.
I apply this same principle in networking situations as well, I try to ask questions about the individual I'm speaking with in order to steer that conversation in the way I want it to go. Due to applying what I have learnt, I was able to win the CIBC Quarterly Achievers Award for Q32017…Thanks Colin…You're the best :)"
Fiona D. – Edmonton, Alberta
"Your dedication to your craft and professionalism is quite impressive. I learned a lot which just goes to prove that you can teach an old dog new tricks."
Brian S. – St. Albert, Alberta
"You are one of the greatest hypnotists I have ever seen and your Success Through Manipulation information is second to none. My kids even use your techniques. You are truly unbelievable!"
Shane F. – Toronto, Ontario